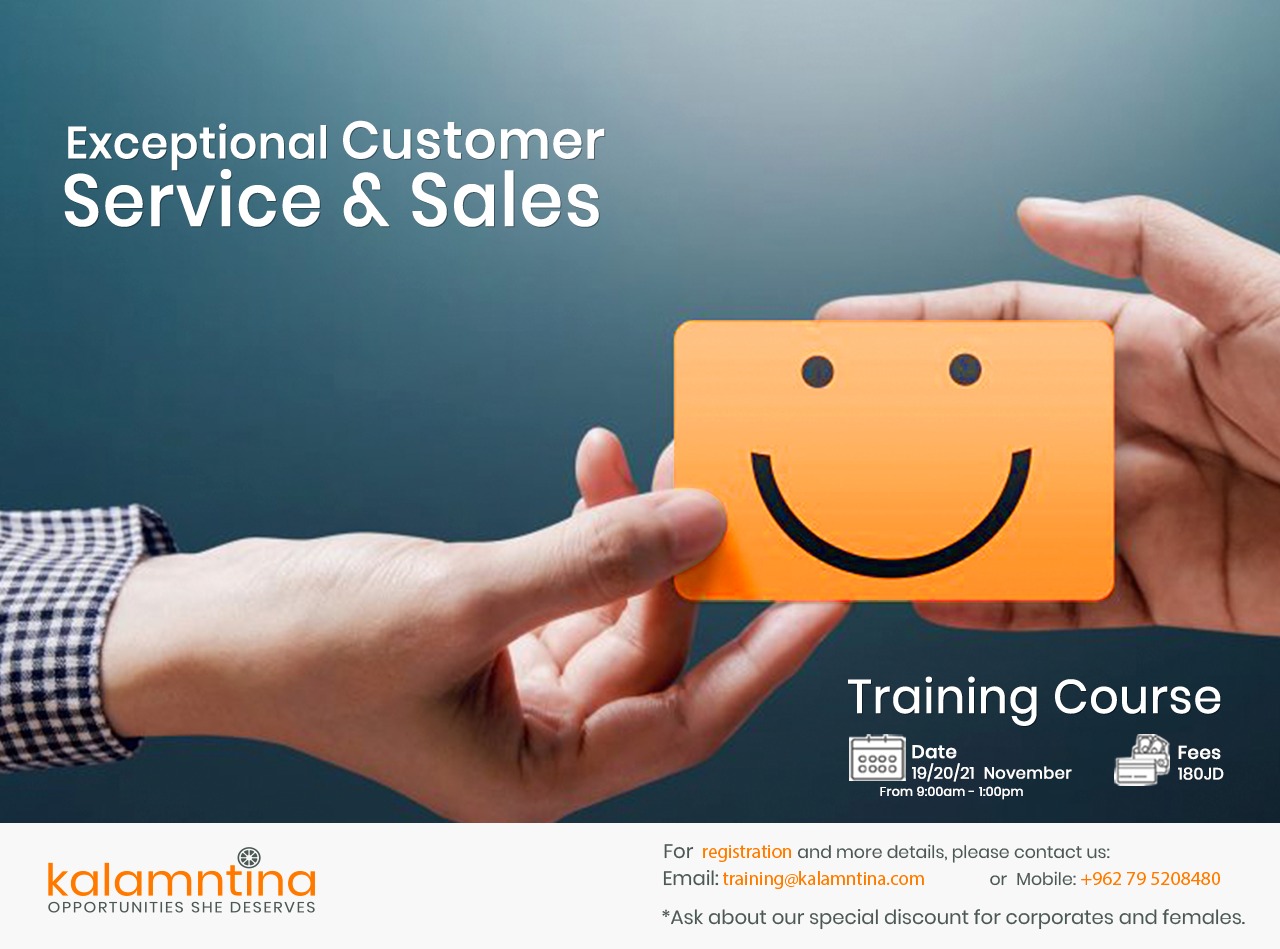 Achieving outstanding sales and service results in an increasingly competitive world is considered a difficult task. It is really essential for the institution to focus more on the distinguished service and sales to maximize their profit and to compete strongly among competitors. Proper customer service is considered a crucial ingredient for winning new customers for years to come.
This workshop goes far beyond the transfer of information by enhancing core competencies in both functional and interpersonal areas. Its main purpose is to drive significant improvement in sales and service culture by addressing the
selling skills, communication practices and the ability to adapt different selling styles to meet customers' requirements.
The workshop employs a variety of exercises, case studies, concepts, and related videos to enhance learning. Participants will be working in groups so as to share expertize, brainstorm to find practical recommendations and solutions to a given selling scenario, and find the most suitable and applicable practices to their individual cases.
Course Methodology
The workshop relies heavily on an interactive approach. Participants will enjoy working with business cases, individual and group exercises taking them from understanding the situation to finding a solution. The course leverages role play techniques where participants work and present scenarios related to deal negotiation, building relationships or problem resolution. Such role plays foster confidence, analytical thinking, handling objections, and teamwork mentality.
Upon completing the workshop, Participants will be able to:
Improve the customer service, loyalty, and retention
Improve customer relationships
Recognize that service delivery is an individual response value.
Develop more confidence and skill as a problem-solver.
Communicate more assertively and effectively.
Learn some ways to make customer service a team approach.
Identify and adopt the right professional selling behavior and skills needed to maximize sales performance
Master and implement the sales process to successfully handle objections and successfully close more deals
Manage customer expectations and exceed it to gain customer loyalty and generate repeated businesses
Master the art of verbal and non-verbal communication to create an atmosphere of respect and trust in the seller-buyer interface
Target Audience
Sales people, sales support, call center agents, CSR's, in addition to potential
candidates for sales and customer service positions who want to build and
revitalize their existing selling and service skills.
Needed competencies
Characteristics of successful sales people
Customer service orientation
Selling and handling objections skills
Communication skills
Customer service and retention
Very good knowledge of the offered products and services.
Course Outline
Day one (4 hours)
Opening Introduction
Program Expectations
Business Survival
Customer Marketing Pyramid
Individual Exercise Prospecting
Components of Effective Sales
Take This Job (Communications Techniques)
Effective Communication
Probing Collecting Information
Case Study / Role Play- Probing
Day 2 (4 hours) - Day 3 (4 hours)
Selling Style Assessment
Need- Benefits Payoff Success Formula
Selling Skills Assessment
Influence Persuasion
Handling Objections
Case study / Role play – Developing Account Strategies
Closing the Sale
Program Evaluation
Methodology
Different training methods appropriate for the targeted group, such as:
1. Active training
2. Short lecture, where parts of the training material is in the form of
short explanation of some of the elements related to the course.
3. Storytelling, some stories that may have an impact and expressed
success in actual creative characters and evidences.
4. Role-playing representing challenges when dealing with customers
and how to be tackled creatively.
Gallery: Gallery work aim at stimulating participants to express their
points of view, discussions and debates about the topics with
reference to their actual problems; all these will be displayed on
flip-charts on the walls inside the presentation room to maintain the
level of skill and to keep the highest level of interaction.
5. Enhance the level of interaction with the power point display
through connectivity points and focus on the key skills.
6. Accelerate learning through fragmentation of content so that it
becomes easy handling by the participants
7. Direct application of all the skills and discuss the pros and cons.
8. Melt tension through breaking down barriers between the
participants and provide a pleasant environment for the exchange
of information.
9. Return of all the participants to their work brimming with positive
and constructive attitudes.
All through:
Provide a dynamic environment for the participants through the selection and sequence of activities and restructure of the program so that the participants enroll enjoyably experience free of trouble.
Training methods can automatically help participants transfer information and skill from short-term memory to long term memory through interconnection networks and interactive activities and exchange of experiences.
Training Aids to be used:
Several training aids, including:
Monitor Data Show. Video shots related to the subject
Flipcharts.
Round Tables setup. Each Team (composed of 4-5 participants) will be seated on a roundtable so as to boost competition, efficiency, and effectiveness of the training.
Individual and group exercises
Papers and pens
Use Videos to view examples
Cards and important notes on the walls
Methods of Evaluation
We will measure the impact of training in accordance with the following:
1. Reaction of participants to the daily evaluation sheet.
2. Tests and presentations and scenes to assess their performance.
3. Predominant behavior during the training session.
Trainer Bio-Mr. George N Farraj
Mr.George N Farraj is a banking professional with over 25 years of rich banking experience at both HSBC and
Jordan Ahli Bank.
He is a highly accomplished executive with solid and diversified banking experience in leading
Retail, SME, and Corporate business, in addition to branches network management.
He is also a licensed TOT (Train-of-Trainers) since year 2006 for "Exceptional Service & Sales,
specialized in building and delivering soft skills training programs in Jordan and abroad.
Location
Workspace- Zeina Complex, Shemsani
44 Queen Nour Str. , Amman-Jordan
Registration & Information:
Please contact us at:
Mobile: +962 79 5208480
Email: training@kalamntina.com